Please excuse the disheveled appearance of our sales staff this November
Join Williams Subaru in sponsoring C.S. Mott Children's Hospital this November. 
The Sales Staff will be putting aside their razors and picking up the pledges. For the month of November, we will be embracing No-Shave November, while donating $10 for every vehicle sold.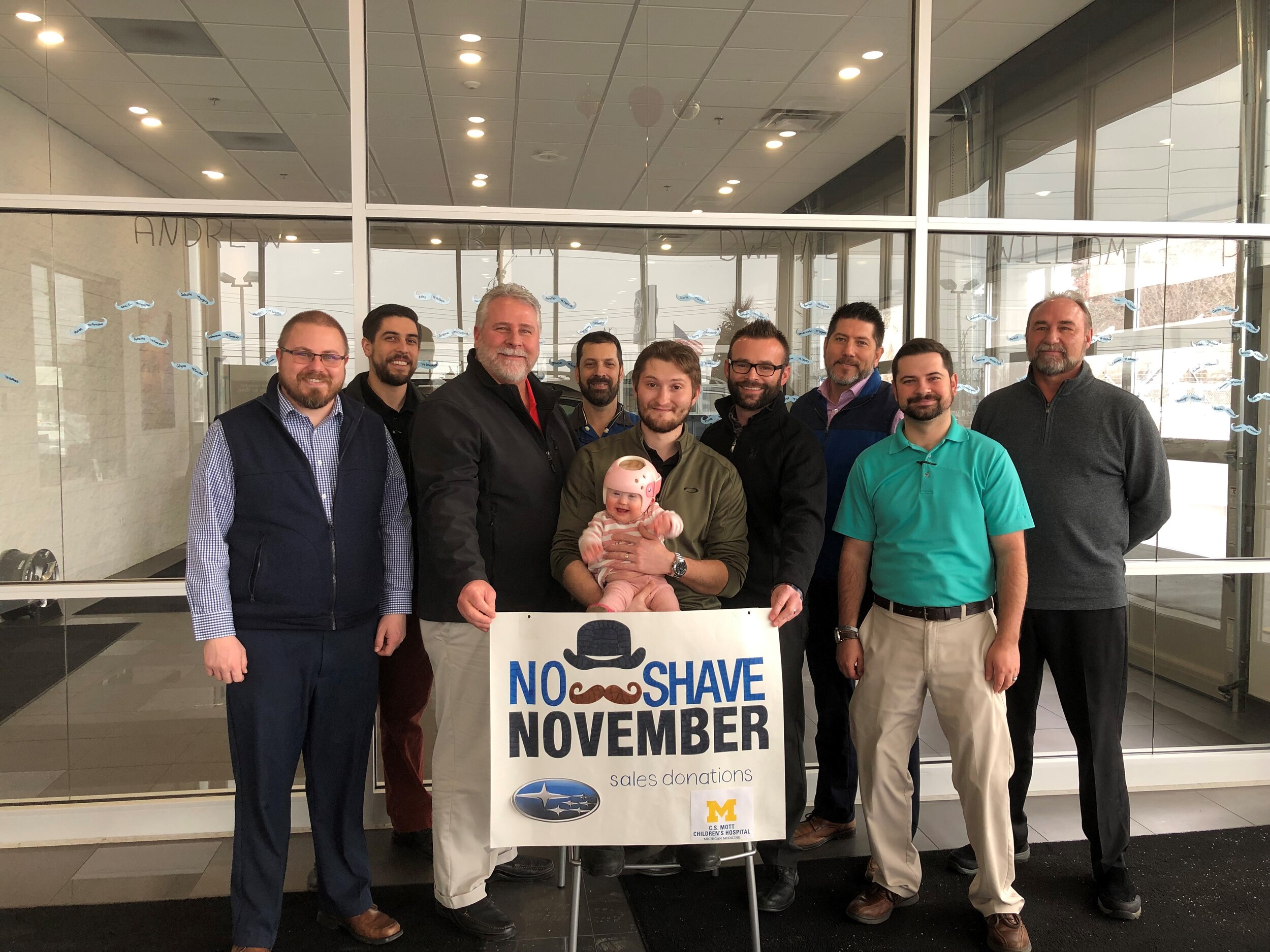 Our sales manager, Wesley Pandoff, will match the highest salesperson's donation. Our sales & service customers are invited to make a donation as well.
Stop staring at my face… it's for a noble cause
https://www.facebook.com/mottchildren/
https://medicineneedsvictors.org/get-involved
https://leadersandbest.umich.edu/find/?s67_16463_P008A/
Community Stories:
Meet Isla!


Isla was born with Atrioventricular Septal Defect (AVSD) which is a rare heart defect that accounts for 4% of heart defects diagnosed in children. It is also, quite common in children with Down syndrome, occurring 25% of the time. The chambers in Isla's heart did not fully develop resulting in oxygenated or red blood to leak to the right side of the heart. This required Isla's heart to work overtime, trying to pump all the excess blood back out of the right side of her heart and back into the lungs. This additional strain on Isla's heart was affecting her overall health and needed to be corrected. At six months of age Isla underwent open heart surgery at C.S. Mott Children's Hospital in Ann Arbor. The outstanding team of nurses, doctors, and surgeons were all so wonderful to Isla and our family. We cannot imagine going through such a stressful, and delicate surgery with any other team, at any other hospital.
This November, the sales staff at Williams Subaru will once again put down their razors and pick up the pledges during "No Shave November". This year's donations will be made to the Pediatric Intensive Care Unit (PICU) at C.S. Mott Children's Hospital.
Please contribute by donating to one of our Williams staff members. Thank you for giving!
To follow more of Isla's journey
  @shelby_a_paler