The 2021 Subaru Love Promise Customer and Community Commitment Award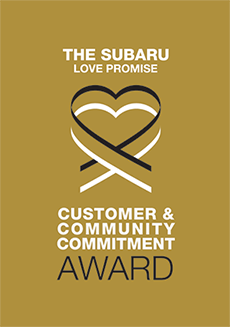 We've been nationally recognized for our dedication to our customers, our community, and the Subaru Love Promise.
We're honored to receive the 2021 Subaru Love Promise Customer and Community Commitment Award. This award nationally recognizes elite Subaru retailers who provide an exceptional customer experience at every interaction with Subaru. These retailers have also demonstrated an outstanding commitment to supporting passions and causes in their local communities in important areas such as the environment, community, health, education, and pets.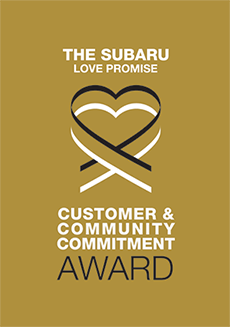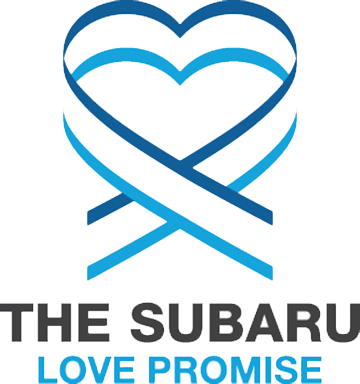 What is the Subaru Love Promise?
Subaru and our retailers believe in making the world a better place and the Subaru Love Promise is our vision of respecting all people. This is our commitment to show love and respect to our customers and to work to make a positive impact in the world.
How is Williams Subaru dedicated locally to the Love Promise?
Our Love Promise is to be involved with various local partnerships, charities and non-profits organizations. We're grateful for the opportunity to serve and be a part of our community.
Capital Area Humane Society, Potter Park Zoo
Spartan Child Development Center, Forest View Elementary
LLS @ Sparrow Hospital, LLS @ Maclaren Hospital
Love Promise Stories from Williams Subaru
Subaru and Williams Subaru believe in making a positive impact on the communities in which we live and work. We uphold that belief through our Love Promise Community Commitment. Every month, we select inspiring stories from customers and partners from around our area who strive to support our collective commitment and feature them here
Subaru Loves to Help! - Laura G
The City Rescue Mission provides food, shelter, and hope to hundreds of women, children, and men in Michigan's capital area. We meet those needs with the faithful and compassionate support of our community, like Williams Subaru. Their gift will offer warmth and comfort to many facing difficult times.
---
Quiet Adventures - Gary D
Our Main Stage and Show Sponsor, Williams Subaru has brought excitement to the Quiet Adventures Symposium since 2004. By promoting the event and exhibiting front and center, Williams helps pack the floor with all who love outdoor recreation.
---
Great Place To Work With!! - Penny P
Williams Subaru is an amazing partner of CAHS. They choose our shelter each year to benefit from the Share the Love campaign, which funds the lifesaving work we do. They also provide a leased Subaru, which allows us to attend adoption and other events in the community. We are so grateful for their support.
---
Subaru Supports Literacy Development at SCDC - LIZ L
Spartan Child Development Center is incredibly thankful for the wide variety of science books donated by Subaru Loves Learning. All our preschool classrooms received a set of new books that they were very excited to add to their classroom libraries. These books have beautiful illustrations with a diverse range of topics for children to enjoy. A handful of books were set aside and will be distributed to children and families in March of 2020 during our celebration of National Reading Month!
---
Williams Subaru brings warmth to cancer patients - Jamie R
On Thursday, July 18th the Michigan Chapter of LLS and Williams Subaru had the pleasure of delivering 80 blankets and 50 arts & craft kits to Sparrow Hospital as part of the Subaru Loves To Care program. These comforting gifts were accompanied by personalized messages of hope written by the customers and staff of Williams Subaru. This incredible act of generosity was warmly received by the Sparrow Hospital staff, Aileen Hansen & Jennifer Komm who were thrilled to distribute these comforting gifts to their patients. Many thanks to everyone at Williams Subaru and Sparrow Hospital, not only for a memorable day, but for supporting LLS's mission to cure blood cancers and improve the quality of life of patients and their families.
---
Lansing Subaru Donates BOOKS! - Amanda D
On September 20th, nine wonderful boxes of books were donated to Corunna High School. We so appreciate all donations of books, but what made this truly special is that the company took time to make sure they were age appropriate and in a genre that is not usually purchased for- scientific. They were also hand-delivered to us by the wonderful employees of Lansing Subaru. Please see the pictures of our students receiving the books.
---
Williams Subaru & Sparrow Hospital - Jo B
Williams Subaru & Sparrow Hospital July 10, 2018 Michigan LLS staff along with Williams Subaru in Lansing delivered 80 blankets and 25 art kits to Sparrow Hospital in Lansing, MI. Jeff Williams, owner of Williams Subaru, was very happy to be part of the Subaru Loves program. He is very active in his community and loves to give back. With him was Wesley Pandoff, Sales Manager, who also believes in the "give back" spirit. Wesley said that he had a chance to work at other dealerships but chose Subaru because of the company. They care for everyone! Karen Rustum is the Pediatric Floor Manager and was thrilled to receive such wonderful blankets and such cute art kits. She loves to give them to the patients when they first arrive so that they feel a little better about being there. Cheri Salazar, Pediatric Oncology Nurse Practitioner, was just as appreciative and loved the "lunch box" style art kits. Also present was Alaina – 13 year old cancer patient. Alaina is battling leukemia currently but is doing well! She was kind enough to stop in and take a picture.
---
Blanket Delivery - Alicia J
On July 25, 2017 Williams Subaru and the Leukemia & Lymphoma Society (Michigan Chapter) delivered blankets to Sparrow Hospital Cancer Center.
---
Delivery of Blankets to Sparrow Hospital - Alicia J
On July 25, 2017 Williams Subaru and the Leukemia & Lymphoma Society delivered blankets to Sparrow Hospital.
---
Gardner Schoolyard Pollination Garden - Nichole T
Our school, Gardner Academy is an urban inner city school and we were so excited to share the experience of the National Wildlife Federation (NWF) to create wildlife habitats in local schools. Through the generosity of Williams Subaru our students were able to be a part of an exciting and educational learning experience they may not have had any other way. We were able to partner with other schools to have high school helpers and volunteers come till the ground, and build our garden box. Over several weeks our elementary and middle school students planted, watered and painted their hands on their special garden fence as they took ownership and learned invaluable lessons in environmental science and loving the earth. Our garden was certified by the NWF because we had food, water, cover and places to raise young. Specifically we created habitats for wrens, chickadees, frogs, hummingbirds, bees and other pollinators with native plant species especially chosen for our Michigan garden. Finally, packets of seeds and information was sent home to encourage students, as well as parents to provide opportunity and awareness for pollinator gardens in their own yards, all thanks to the thoughtfulness and financial support of Williams Subaru of Lansing.
---
In Awe of Williams Subaru - Rachael H
For the past few months I have been back and forth about what my next vehicle will be. I have been seriously considering a Subaru Outback. Well after receiving the most recent CAHS newsletter and reading an article in it, I now know it will be a Subaru for sure. The reason is the Forester donated to CAHS from your company to help transport shelter animals. The most recent member to join our family was adopted from CAHS and I volunteer there when I can. I love to see companies make generous donations to help animals in need. Without donations like this CAHS wouldn't be around and I wouldn't have met Zena (my now 10 year old lab). So thank you for doing that! I look forward to the day when I buy my Outback from you.
---
1st Stop, LLS Road trip - Christopher J
My wife and I have decided to share our gratitude with the retailers participating in the Leukemia & Lymphoma Society's Where Love Meets Hope partnership. We live in Michigan so this was an easy one. Williams Subaru is a beautiful dealership, very clean and modern where I was promptly greeted by Ryan Smith. I apologized that I wouldn't be purchasing a car today and told him my reason for stopping by. He shared a heartfelt story about another customer and their experience with the LLS table and the messages of hope. Ryan showed me where the table was, everyone was very respectful, let me fill out a message of hope and reflect. Everyone needs to understand just this small gesture means so very much to all of the survivors and people currently on their journey. It was my privilege to thank Williams Subaru in person.
---
Williams Subaru Adopted our Classroom - Alaina M
Dear Williams Subaru, Thank you so very much for adopting our classroom here at Spartan Child Development Center! This light table has been on our wish list for a very long time, and you made it possible. The light table will give us the opportunity to explore materials we already have in new ways. We are able to use it for looking at x-rays, outlines, tracing, building with see-through blocks and magnets, as well as exploring shapes, and much more! The children have already loved using and exploring the light table, as you can see in some of the pictures we have sent to you. This light table will not only benefit these children, but also many more for years to come. We have been sharing it with some of our other classrooms here at the school as well. We are truly appreciative to your company for thinking of us. We are fortunate to have people like you in our community who care enough about the importance of furthering classroom environments for the education of children. Thank you again for your generosity! We are excited to have this new technology in our classroom! Sincerely, Ms. Alaina & Ms. Jackie
---