The 2022 Subaru Love Promise Customer and Community Commitment Award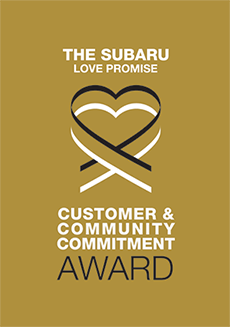 We've been nationally recognized for our dedication to our customers, our community, and the Subaru Love Promise.
We're honored to receive the 2022 Subaru Love Promise Customer and Community Commitment Award. This award nationally recognizes elite Subaru retailers who provide an exceptional customer experience at every interaction with Subaru. These retailers have also demonstrated an outstanding commitment to supporting passions and causes in their local communities in important areas such as the environment, community, health, education, and pets.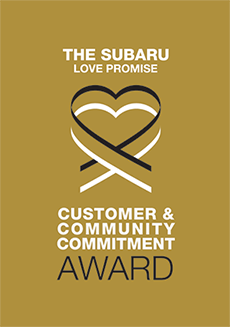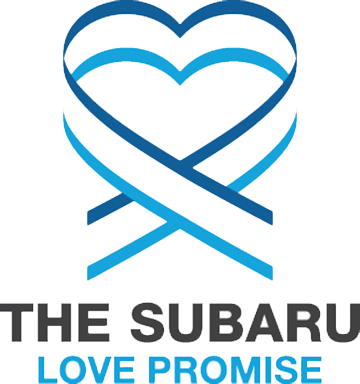 What is the Subaru Love Promise?
Subaru and our retailers believe in making the world a better place and the Subaru Love Promise is our vision of respecting all people. This is our commitment to show love and respect to our customers and to work to make a positive impact in the world.
How is Williams Subaru dedicated locally to the Love Promise?
Our Love Promise is to be involved with various local partnerships, charities and non-profits organizations. We're grateful for the opportunity to serve and be a part of our community.
Capital Area Humane Society, Potter Park Zoo
Spartan Child Development Center, Forest View Elementary
LLS @ Sparrow Hospital, LLS @ Maclaren Hospital
Love Promise Stories from Williams Subaru
Subaru and Williams Subaru believe in making a positive impact on the communities in which we live and work. We uphold that belief through our Love Promise Community Commitment. Every month, we select inspiring stories from customers and partners from around our area who strive to support our collective commitment and feature them here
Subaru Meets Needs in Our Community - Laura G
Once again, Williams Subaru provided warm, weather-proof blankets for guests of the Mission. They also brought warm socks, and these items will be greatly appreciated by guests of the City Rescue Mission of Lansing. In the first 9 months of 2021, over 1,700 women, children, and men found food, shelter, and hope at the City Rescue Mission. We are so grateful for the support from our community members, like Williams Subaru, that enables that to happen every day.
---
Quiet Adventures 2021 - Gary and Linda D
The Quiet Adventures Symposium promotes an active lifestyle based on outdoor recreation. Presented annually, since 1996, by Lansing's Quiet Water Society, it brings together paddlers, cyclists, campers, and hikers. In February of 2021, we held our first virtual event with Williams Subaru as not only Show Sponsor but also the sponsor of our Grand Finale. This online event was well attended, and we cannot thank Williams Subaru enough for being a critical part of our success. Williams Subaru and the Quiet Adventures Symposium want to help you "Find Your Next Adventure". Gary and Linda De Kock Quiet Water Society https://quietwatersociety.org
---
Elphaba's Perfect Home - Anne E
Elphaba arrived to the shelter as a stray and was very unhappy. She was matted, had bad knees, and her skin was irritated and uncomfortable from being outside. Elphaba made a few friends at the shelter, but she didn't allow very many people to touch her. Our behavior staff wanted to give her a break from the shelter and sent to a foster home to see if she would warm up in a home environment. Once she left the shelter, her foster mom fell in love and Elphaba became a normal, happy dog! Her foster mom introduced Elphaba to her parents and her fate was sealed. As soon as she was cleared medically, Elphaba was adopted by her foster mom's parents and she has never looked back! Her new owners are "obsessed" with her! She is living a life of luxury and will be heading down south to spend the winter in Florida. Elphaba's foster mom and adoptive family wanted to thank Subaru and the employees at the Capital Area Humane Society for all of their hard work and dedication for every animal that walks through the door!
---
Subaru Loves to Help! - Laura G
The City Rescue Mission provides food, shelter, and hope to hundreds of women, children, and men in Michigan's capital area. We meet those needs with the faithful and compassionate support of our community, like Williams Subaru. Their gift will offer warmth and comfort to many facing difficult times.
---
Quiet Adventures - Gary D
Our Main Stage and Show Sponsor, Williams Subaru has brought excitement to the Quiet Adventures Symposium since 2004. By promoting the event and exhibiting front and center, Williams helps pack the floor with all who love outdoor recreation.
---
Great Place To Work With!! - Penny P
Williams Subaru is an amazing partner of CAHS. They choose our shelter each year to benefit from the Share the Love campaign, which funds the lifesaving work we do. They also provide a leased Subaru, which allows us to attend adoption and other events in the community. We are so grateful for their support.
---
Subaru Supports Literacy Development at SCDC - LIZ L
Spartan Child Development Center is incredibly thankful for the wide variety of science books donated by Subaru Loves Learning. All our preschool classrooms received a set of new books that they were very excited to add to their classroom libraries. These books have beautiful illustrations with a diverse range of topics for children to enjoy. A handful of books were set aside and will be distributed to children and families in March of 2020 during our celebration of National Reading Month!
---
Williams Subaru brings warmth to cancer patients - Jamie R
On Thursday, July 18th the Michigan Chapter of LLS and Williams Subaru had the pleasure of delivering 80 blankets and 50 arts & craft kits to Sparrow Hospital as part of the Subaru Loves To Care program. These comforting gifts were accompanied by personalized messages of hope written by the customers and staff of Williams Subaru. This incredible act of generosity was warmly received by the Sparrow Hospital staff, Aileen Hansen & Jennifer Komm who were thrilled to distribute these comforting gifts to their patients. Many thanks to everyone at Williams Subaru and Sparrow Hospital, not only for a memorable day, but for supporting LLS's mission to cure blood cancers and improve the quality of life of patients and their families.
---
Lansing Subaru Donates BOOKS! - Amanda D
On September 20th, nine wonderful boxes of books were donated to Corunna High School. We so appreciate all donations of books, but what made this truly special is that the company took time to make sure they were age appropriate and in a genre that is not usually purchased for- scientific. They were also hand-delivered to us by the wonderful employees of Lansing Subaru. Please see the pictures of our students receiving the books.
---
Williams Subaru & Sparrow Hospital - Jo B
Williams Subaru & Sparrow Hospital July 10, 2018 Michigan LLS staff along with Williams Subaru in Lansing delivered 80 blankets and 25 art kits to Sparrow Hospital in Lansing, MI. Jeff Williams, owner of Williams Subaru, was very happy to be part of the Subaru Loves program. He is very active in his community and loves to give back. With him was Wesley Pandoff, Sales Manager, who also believes in the "give back" spirit. Wesley said that he had a chance to work at other dealerships but chose Subaru because of the company. They care for everyone! Karen Rustum is the Pediatric Floor Manager and was thrilled to receive such wonderful blankets and such cute art kits. She loves to give them to the patients when they first arrive so that they feel a little better about being there. Cheri Salazar, Pediatric Oncology Nurse Practitioner, was just as appreciative and loved the "lunch box" style art kits. Also present was Alaina – 13 year old cancer patient. Alaina is battling leukemia currently but is doing well! She was kind enough to stop in and take a picture.
---